HILLSHINE ENTERPRISE CO., LTD.
---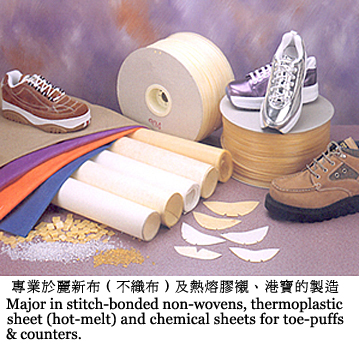 Founded in 1986, HILLSHINE ENTERPRISE is an expert on the manufacturing of stitch-bonded non-wovens, thermoplastic sheets (hot-melt) and chemical sheets for toe-puffs & counters. We primarily supply to the shoe-making, garment, toy, suitcase & handbag and other related industries, with a monthly production of over one million yards of non-woven fabric, and 450 thousand yards of thermoplastic and chemical sheets. About 45% are exported to Southeast Asia, the Middle East, Europe and South America, while the majority are supplied to local markets and mainland China. Mass production allows us to offer very competitive prices.
We also help our clients find other related materials for shoe-making especially provide: Activated Carbon No-Woven and Activated Carbon Mask. We are always ready to be of assistance.
E-mail: hillshin@ms33.hinet.net
Established in:

1990

Capital:

USD650,000

Annual Sales:

USD3,300,000

No. of Employee:

20

Business types:

OEM Manufacturer
ODM Manufacturer
Exporter/Agent

Markets:
CEO:

Mr. Dennis Chou

Sales Contact:

Mr. Dennis Chou

Address:

1F., No. 237, Yung Chun E. 3rd Rd. Nan Tun Dist., Taichung Taiwan, R.O.C.

Tel:

886-4-23830049

Fax:

886-4-23830062

E-Mail: hillshin@ms33.hinet.net
URL:
---
Copyright (C) 2008 HILLSHINE ENTERPRISE CO., LTD.. All rights reserved.
Privacy Policy